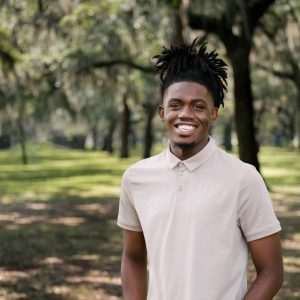 As a senior communication major, Jabari Gibbs has always been passionate about bringing diverse perspectives to the news. His experience as the editor-in-chief of the George-Anne Inkwell has allowed him to hone his skills and win several awards, including the best overall news coverage from the Georgia College Press Association and the best print publication from the Southern Regional Press Institute.
In addition to these accolades, Jabari was selected as a 2023 Emma Bowden Fellow in recognition of his exceptional leadership and commitment to excellence in journalism. During his time at the George-Anne Inkwell, he has had the opportunity to intern with The Current, a non-profit news organization in Coastal Georgia focused on investigative journalism.
As the editor-in-chief of the Inkwell, Jabari oversees all aspects of the newspaper, including managing staff and making editorial decisions. Under his leadership, the Inkwell has tripled in size and increased the frequency of its digital newsletter, which now averages over 6000 opens. During his time at the Inkwell, Jabari has led a student housing investigative package that led to the university making significant housing improvements. These experiences allowed him to develop a deep understanding of the importance of quality investigative journalism and how it can drive positive change in society.
Jabari thrives in fast-paced environments and enjoys collaborating with others to achieve common goals. As he prepares to graduate, Jabari is eager to apply his skills and experience to a rewarding and challenging career in journalism.
Jabari is confident that his passion for storytelling, commitment to excellence, and ability to lead and collaborate effectively will make him an asset to any organization.