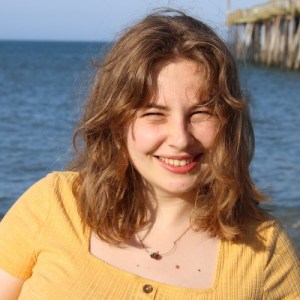 Hazel Feldstein (she/her) is a third-year student at Oberlin College, majoring in sociology, completing a Journalism Integrative Concentration, and minoring in creative writing.
Hazel enjoys uncovering the past to gain insight into the present through her journalism coursework; she has tracked down and interviewed allusive music artists from her childhood and most recently recreated near-vintage studies on campus drug use based on archived articles.
Outside the classroom, Hazel has been both a DJ and News Director for WOBC-FM, Oberlin's College and Community Radio. As a DJ, she hosted music and talk shows, spinning hyperpop and early 2000s pop-punk tracks, and discussed internet fandom culture. As News Director, Hazel helped revive the program post-pandemic by producing The Monday Morning Report, a weekly radio news hour, and advised fellow student journalists.
Hazel also created her own podcast humorously covering inaccurate science in b-list movies. And is a communications contributor and podcast consultant for the American Enterprise Institute.
Along with audio journalism, Hazel's passions include Neo-Burlesque performance art, gardening, and hearty charcuterie boards.