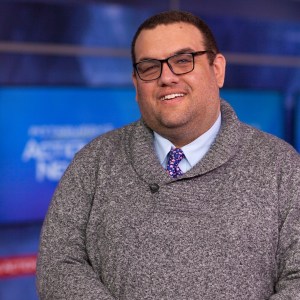 Bobby Cherry is the senior copy editor at Hearst Television. In his role, Bobby leads a team of copy editors who are responsible for copy editing digital content across more than two dozen local Hearst TV stations' sites and apps.
He began his professional journalism career with the Pittsburgh Tribune-Review as a reporter with the Sewickley Herald and The (Carnegie) Signal Item. At the Trib, Bobby helped to usher in the use of social media. His digital news media accomplishments have been honored with numerous awards from the Pennsylvania NewsMedia Association, Society of Professional Journalists Keystone Pro Chapter and The Press Club of Western Pennsylvania.
In addition, Bobby's reporting skills also have been honored with a number of newswriting awards.
His love for journalism is matched by his dedication to volunteering. He's volunteered for more than 20 years with the American Cancer Society, holding several positions nationally and regionally within the organization. In addition, he served as a board member for a Pittsburgh-based LGBTQ nonprofit organization.
A native of the Pittsburgh area, Bobby embodies the spirit of Buddy the Elf with his love of Christmas, can be found year-round at Presque Isle State Park along the shores of Lake Erie, is enthralled with the lives of the Bradys and Hortons on "Days of our Lives" and continues his quest for that perfect slice of pizza.