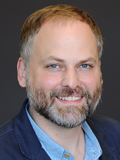 Senior Executive Producer, Multimedia and Mobile, Al Jazeera America
Medium: Digital
Membership: Professional
Bio
Rhyne Piggott began his digital journalism career with USA Today in 1999. Most recently, he served on the launch team for Al Jazeera America, working to define the digital strategy, hire the staff and create the digital platform. He's currently the head of multimedia for AJAM, where he oversees the interactive storytelling, news apps, online video and mobile teams. He lives with his wife, Whitney Matheson, and their daughter in Brooklyn, N.Y.
---
The unedited information below was submitted by the candidate.
ONA and Industry Involvement
In addition to being a member for several years, I've attended multiple ONA conferences, been an awards screener and was part of the initial group that came together to discuss the challenges and opportunities that led to the creation of the ONA UGC Ethics group of which I'm still a member. I've been a digital journalist for almost 15 years and most recently served on the launch team for Al Jazeera America, including hiring a diverse newsroom of more than 55 digital journalists and creating the digital platform and strategy from scratch.
Vision for ONA
ONA is a fantastic resource and advocate for journalists. The format of last year's conference was particularly useful, and my vision for moving ONA forward is to build on this momentum by focusing even more on the first tenet of the mission, which states ONA is "a catalyst for innovation in story-telling across all platforms." I think there's a lot of room to deliver on this in a more direct way.
At Al Jazeera America, I designed the interactive team to be a group of soup-to-nuts digital journalists. As Scott Klein wrote, we try to scoop with code. Just like any other shop, we work with other journalists across the company, but the core mission of the team is to pitch, report, design and code our own enterprise stories. We take chances, experiment and try to practice the changes we want to see in the industry. And we're certainly not alone.
Still, it remains difficult for many organizations, even the ones with the deepest pockets, to consistently understand if what's being produced is having the desired impact. This is becoming an increasingly important conversation in the industry with many great ideas already in the works.
I think ONA, with its diverse membership and outreach to newsrooms and communities of all sizes, is uniquely positioned to help address this by creating a platform to bridge this gap: Think of it as user-experience lab where media outlets can gain better insight and guidance about the impact on their audiences. This service would be particularly useful for small and medium-sized newsrooms where the cost of taking chances could be lowered by gaining valuable feedback on what works. This wouldn't be a website redesign shop but a place for journalists to bring specific projects before they're published and with defined goals. ONA's impact lab would work to refine these goals and track the project through publication, audience engagement and postmortem. All findings would be open source and published by ONA.
I'd also like to see the creation of a rotating residency for a digital media critic. This person would function in a similar way to an ombudsman or public advocate whose views wouldn't reflect those of ONA. The critic would comment on a range of topics – storytelling approaches, trends, techniques, organizational structures, user experience – and would also cross-post items from other industry thinkers and seek answers to questions from the community. Yes, we have Jay Rosen, Jeff Jarvis and others, but there's room for more and diverse voices, particularly as a bridge for folks who have recently left newsrooms.
Nomination
By Joshua Hatch, Senior Editor, The Chronicle of Higher Education
I worked with Rhyne at USA TODAY where he was always thinking two steps ahead of our colleagues. He's always playing two or three turns ahead, and is thoughtful about the ways journalism is changing in our time. Since leaving USA TODAY, Rhyne and I have kept in touch and I've followed his career at Current and now Al Ajazeera America. I'm incredibly impressed at the way he's built a large, varied and talented group of multimedia and mobile producers and storytellers. The work he and his teams are producing are second to none as I expect will be demonstrated at the Online Journalism Awards. This rapid growth of AJA is directly attributable to Rhyne's leadership and vision. And I think those qualities could serve the board well. He will be willing to participate in meaningful discussions, can be an active member of the board, and will contribute mightily to the role ONA is playing in newsrooms around the country. And with his high-profile role in a broadcast-based organization that has strong ties to journalists beyond America's shores, I think he will help broaden ONA's reach in terms of media and internationally. I suspect Rhyne will be most interested in the training outreach and in ways ONA can reach more journalists. He would be a terrific asset to the organization.
Additional Links