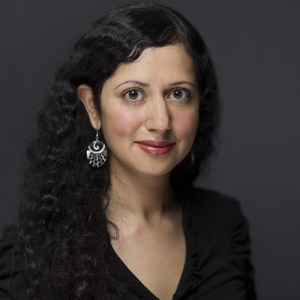 Rubina Madan Fillion is the director of audience for The New York Times Opinion section, leading a global team of editors focused on reaching new audiences and deepening The Times's relationship with them across many different platforms. Previously she was the director of audience engagement at The Intercept, where she focused on social media, analytics, newsletters, comments, events, SEO, and the membership program. She spent seven years at the Wall Street Journal as a social media editor and graphics editor.
Rubina has taught graduate-level digital journalism courses at Columbia University and New York University. She serves on the boards of the Online News Association and the Deadline Club, New York's chapter of the Society of Professional Journalists. Rubina was part of the 2017 cohort of ONA's Women's Leadership Accelerator. She holds a bachelor's degree from Emory University and a master's degree in journalism from Columbia University. Rubina lives in Astoria, NY with her husband, daughter and son.
---
As a candidate for the 2019-20 Board of Directors election, Rubina delivered a lightning talk at the ONA18 conference and submitted the following information. Learn more about the election process.
ONA Involvement
I'm one of the lead organizers of ONA NYC. In this role, I've developed programming, secured venues and sponsorships, and grown our list of ONA NYC members to 2,700+ journalists.
I was part of the 2017 cohort of the ONA Women's Leadership Accelerator. I'm an admin for several Facebook groups aimed at women in journalism (Binders Full of Digital Journalists, Media Moms, Binders Full of New Yorkers).
I've been on the Deadline Club's board for four years, including serving as the head judge for digital innovation awards. I'm also an active member of AAJA and Journalists of Color.
Vision for ONA
It's hard to overstate how much ONA has meant to me since I joined six years ago, when I transitioned from print to digital journalism. It has introduced me to some of my closest friends, made me rethink innovation in my newsroom, and given me crucial guidance in my career.
For the past few years, I've been giving back as an organizer for my local chapter, ONA NYC. During that time, it has become a premiere journalism organization in New York, hosting popular events that sell out within a few hours, getting written about in industry publications, and providing concrete lessons for journalists to bring back to their newsrooms.
As "digital journalism" has grown from a niche to the norm, ONA has grown along with it. As a board member, I would strive to ensure the programming we provide is beneficial for journalists at all levels, from students to middle managers to senior leaders.
ONA could help combat some of the most pernicious problems facing our industry, such as the glacial progress in increasing newsroom diversity. Only 13% of people with leadership roles in American newsrooms are people of color, according to the 2017 ASNE diversity survey. I admire the work ONA has done to try to change that, including through their Journalism Mentorship Collaborative. I would take it further by helping us partner more with other organizations committed to diversity, including NABJ, NAHJ, AAJA, and Journalists of Color.
Women now make up close to 70% of graduates at many journalism schools. But they face obstacles once they enter the workforce, barriers that prevent them from reaching their full potential. The result: only a third of newsroom leaders are women, and that number has barely budged in the past 20 years. I'm a proud member of the 2017 cohort of ONA's Women's Leadership Accelerator. It's no exaggeration that I think about the lessons I learned in that program every day. I would strive to work with ONA to see what more we can do to change the ratio, so more female journalists ascend to become our industry's leaders.
I believe in lifting up others, both within my newsroom and outside of it. I launched and co-run a fellowship program at The Intercept that cross-trains young journalists in fact-checking, research, video, and audience engagement skills. I've edited countless resumes and cover letters, along with connecting dozens of people to help them find jobs. I've taught at both Columbia and NYU's journalism schools, and guest lecture at other universities, giving students the career advice I wish I'd had at their age. If I'm asked to speak at an event and can't make it, I always recommend someone else (usually another woman of color) to take my place. Every week, I ask myself what I did to help other people succeed.
ONA is already a critically important organization that provides valuable training and career development for journalists. If you vote for me, I'll work to make ONA even better.
Meena Thiruvengadam on Rubina Fillion
I was a late entrant to the audience space and didn't join Twitter until 2011. Rubina doesn't know it, but she's been a mentor to me since before I met her. I followed her on Twitter as l learned my way, eventually building a career that had me leading global social media teams for major companies.
When I first came to New York, she made it a point to get to know me and help me find my way. In such a competitive media landscape, I was a little surprised by her willingness to help someone who might be competing for similar jobs. But that's who Rubina is. She knows there is enough need in journalism for all of our skills and does whatever she can to help those around her shine.
Over the six years I've known her, she has encouraged me to pursue things I never thought I could attain, like a spot in the ONA Women's Leadership Accelerator. When I have run into challenges along my career path, she has always been there for me. She may be one of the best coaches out there when it comes to managing difficult newsroom conversations and charting one's career path in this volatile and all-consuming industry.
Rubina is not only a talented journalist but also a skilled newsroom manager and community builder. She is a key component of ONA NYC's success and actively tries to build and engage with the journalism community around her. She gives everyone a chance and is willing to help build up those around her in a way that's all to rare nowadays.
Rubina would be an asset to the ONA board, and I'm confident in her ability to help the organization and its members grow.