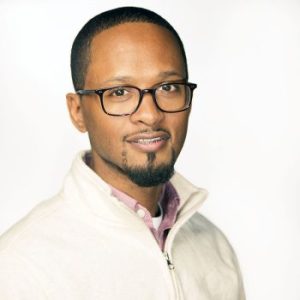 Michael Grant is a journalist who specializes in editorial experience design. In 2021, he founded Get Current Studio — a design, web development and storytelling agency that is reimagining the print and online brands of ethnic publishers and how they serve their audiences.
Grant is an alum of the John S. Knight Journalism Fellowships at Stanford University where he researched challenges facing HBCU media studies programs as well as Black-owned news organizations, and the Google News Lab Teaching Fellowship where he trained newsrooms and universities around the country on how to use Google Products for reporting and storytelling.
He previously held online and leadership roles at Reveal, from the Center for Investigative Reporting, San Francisco Business Times, Star Tribune, and the San Francisco Chronicle.
He also leads the HBCU Digital Media Fellowship, a program that introduces a select group of HBCU student journalists to new concepts in digital publishing during the annual Online News Association conference.
Get Current Studio is involved in programs including the GNI Ad Lab; a Google News Initiative program designed to strengthen digital revenue among ethnic publications, the Listening & Sustainability Lab by the American Press Institute; a program designed to help publishers create a feedback loop for serving audiences and create new forms of revenue, and the Digital Transformation Lab, by the Local Media Association; a program focused on migrating four black-owned news organizations to Newspack — a WordPress CMS designed for small to mid-size publishers.