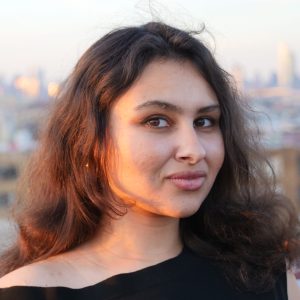 Iliana is a producer at AJ+ and was recently an associate producer on the documentary Mama Gloria.
She completed a fellowship with The GroundTruth Project to look into how court fees and fines have harbored ex-felons from voting in Tennessee and the analogue ways voting data is stored. She has freelanced for publications such as VICE, Teen Vogue, Elle Magazine and Scalawag Magazine.
At CBS, she was a morning show producer and an Assignment Editor. At BBC, she produced several experimental shorts for the English, Arabic, and Persian services.
As a Somali-American, she was compelled to write when the Sudan revolution was underway, and her feature in Elle Magazine about a Facebook group that began to catch cheating men which exposed violent officers was an Apple News Spotlight story, being optioned for film. She most recently worked on the PBs documentary Mama Gloria as an Associate Producer, helping placing the film into the Chicago Film Festival Official Selection. She is a two-time fellowship recipient from