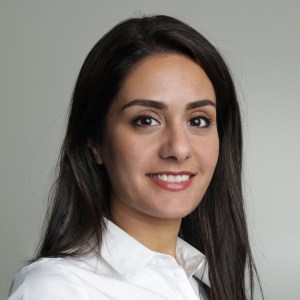 Tina Korani is an assistant professor of media design at San Jose State University, co-founder and faculty advisor of the School of Journalism and Mass Communication's Immersive Storytelling Lab, and Adobe Education Leader.
She has worked to integrate mixed reality and 360 video technologies into the School of Journalism and Mass Communications at SJSU. She wanted to introduce students in the department to immersive storytelling practices, so she co-founded the Immersive Storytelling Lab in 2018 and continues to oversee it as a faculty advisor today. As a designer and builder of interactive technologies, Korani emphasizes digital experience design, digital storytelling, interactive media, and immersive technology in her course curriculum. She continues to explore the use of new media technologies for the improvement, augmentation, and support of the learning experience with her students.
Additionally, her facilitation of a number of presentations and workshops and her service as an Adobe Education Leader has allowed her greater opportunity to share these tools in media education.
Describe your vision for the future of digital journalism. How would you reimagine the journalism industry?
I believe that the future of digital journalism will be strongly powered by VR and AR technology. While news itself may not change drastically, the delivery of news will evolve to be curated to the individual user. The world is increasingly becoming more personalized, so I envision the industry will need to equip itself with the necessary skills to deliver such personalized experiences. This can be done by expanding upon the role of immersion. Specifically, how each visual, audio, and atmospheric element can be leveraged to transform and elevate a story. Moreover, with fake news and deep fakes posing more threats to the journalism industry each day, I believe it is mission-critical for the industry to move toward artificial intelligence to combat these issues. For example, AI can more efficiently determine if images or videos are deep fakes, which can help limit the amount of misinformation being published. All in all, immersive media will produce a radical shift in the way we consume news media. By incorporating additional layers of engagement in storytelling and journalistic practices will broaden audiences' level of interaction with news, and deepen their understanding of current events. Miniaturization and optimization of AR/VR technologies will make it increasingly accessible to the general public, thus, I believe the journalism industry should begin equipping its future workforce with these skills to remain competitive and achieve long-term success.