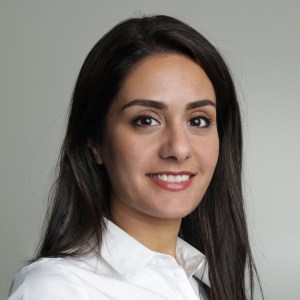 Tina Korani is an assistant professor of media design at San Jose State University, co-founder and faculty advisor of the School of Journalism and Mass Communication's Immersive Storytelling Lab, and Adobe Education Leader.
She has worked to integrate mixed reality and 360 video technologies into the School of Journalism and Mass Communications at SJSU. She wanted to introduce students in the department to immersive storytelling practices, so she co-founded the Immersive Storytelling Lab in 2018 and continues to oversee it as a faculty advisor today. As a designer and builder of interactive technologies, Korani emphasizes digital experience design, digital storytelling, interactive media, and immersive technology in her course curriculum. She continues to explore the use of new media technologies for the improvement, augmentation, and support of the learning experience with her students.
Additionally, her facilitation of a number of presentations and workshops and her service as an Adobe Education Leader has allowed her greater opportunity to share these tools in media education.