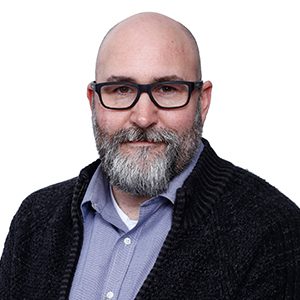 Before coming to Ball State, Sparrow was a staff photographer at The Tribune in New Albany, Ind.; the Harold Bulletin in Anderson Ind. and the Florida Times Union in Jacksonville, Fl. He has also been an instructor at Franklin College.
His interests include basic reporting, communications graphics, digital photography, graphic design, computer graphics, multimedia, web design, digital video and visual ethics.
Sparrow has won national design awards for Thomson Newspapers in 1995, 1997, and 1998; regional National Press Photographer's Association awards for feature photography in 1997 and 1999; and other professional honors. While at Ball State University he was part of an interdepartmental team of professors who created a new news curriculum in the Journalism and TCOM departments, and he co-mentored a 2008 Business Fellows initiative that led a team of 16 students from four departments in producing a multimedia guide for Historic Landmarks of Indiana's Ten Most Endangered Annual List.