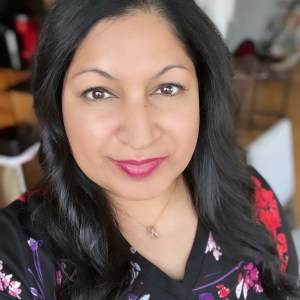 As Head of the Executive Program in News Innovation and Leadership at Craig Newmark Graduate School of Journalism, CUNY, Niketa runs the school's leadership initiatives, including its flagship program for media managers – the Executive Program in News Innovation and Leadership – designed to empower and train a new, more diverse generation of journalism leaders at the intersections of editorial, product, business and technology.
Niketa served as Senior Director of Partnerships and Platforms at The 19th, overseeing editorial partnerships with a focus on republishing, co-publishing, collaborations, and events. She built and cultivated strategic partnerships with national, local and community newsrooms with an eye towards reaching diverse audiences.
Prior to that, Niketa oversaw Print and Digital News Partnerships in the US for Twitter. In this role, she collaborated with newsrooms and journalists with regards to strategic initiatives, best practices, safety and training which spanned across Twitter's wide range of products and tools.
Niketa has a storied track record in digital journalism, audience development and product at CNN, ABC News, CBS News, The Atlanta Journal-Constitution, Florida Times-Union and more. She's currently a board member for the Online News Association and has been a long time member of ONA, AAJA & SAJA.
Niketa lives in Atlanta with her energetic son. Her Twitter handle is @Niketa.
Niketa's vision for the future of digital journalism
The future of journalism is one that is diverse, inclusive and collaborative, only then, can we serve our audiences in an optimal way.
As a digital journalist with 19 years experience in both print and broadcast newsrooms and in the startup and platform world, I have a lot to offer ONA in terms of industry insights, skills, career advice and my network.
I have been a firm believer in ONA's vision and mission and want to help further excellence in journalism, editorial integrity and freedom of expression.
My vision for ONA would be to explore innovative ways to reach more journalists & newsrooms in order to increase membership and awareness of the organization. I want to help shape the future of ONA in order to help current and future digital journalists become pioneers and revolutionary experts in their respective fields.
Given that I am a woman of color, I seek out diverse perspectives in everything that I do from working with News partners in my current role, to hosting events for ONA Local in the past, to collaborating with my peers on a daily basis. I want to be a part of ONA's efforts to continue to be a leader in providing services, events, training and resources to women, journalists of color and more.
What a time to be a journalist! Now more than ever, I want ONA, in partnership with other organizations to be on the frontlines fighting for #PressFreedom
ONA should continue to seek out emerging technologies and industry experts to enable journalists to be at the forefront of innovative storytelling. I hope my experience and knowledge will compliment existing and incoming board members.
If you have any questions or thoughts, please don't hesitate to reach out to me.