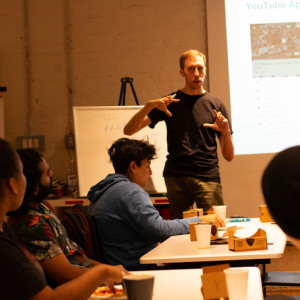 Matt MacVey is the academic program specialist for the emerging tech lab at the Newmark Graduate School of Journalism at CUNY. In that role, he develops workshops to explore new storytelling tools and connects media-makers, journalism students, and media organizations working with new technology. Matt's AR/VR projects are supported by RLab.
He has taught –often with a great group of collaborators — augmented reality and virtual reality storytelling workshops at WAN-IFRA, Civic Hall, Brown Institute at Columbia, PBS Student Reporting Labs, Reelworks, and the Allied Media Conference. Previously, he worked as the education coordinator for the Tow-Knight Center for Entrepreneurial Journalism.
Matt MacVey's pronouns are he, him, his.