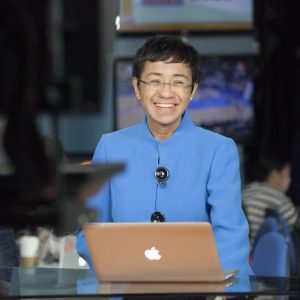 The CEO and Executive Editor of Rappler, Maria co-founded the company in 2012 and helped turn it into one of the most influential and innovative news organizations in the Philippines.
Maria has been honored around the world for her courageous and bold work in fighting disinformation, "fake news" and attempts to silence the free press. In 2018, she won the prestigious Golden Pen of Freedom Award from the World Association of Newspapers and News Publishers (WAN-INFRA), the Knight International Journalism Award of the International Center for Journalists, the Gwen Ifill Press Freedom Award of the Committee to Protect Journalists, the Journalist of Courage and Impact Award of East-West Center, and the IX International Press Freedom Award of University of Málaga and UNESCO, among others.
In December 2018, Maria was named Time "Person of the Year," and most recently was chosen as among "Time 100" most influential people of 2019.