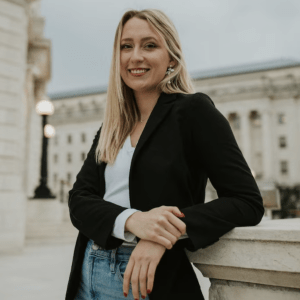 Kyley leads the dynamic digital team responsible for promoting our most impactful journalism across Twitter, Facebook, Reddit, LinkedIn and other social media platforms. A sharp and talented social mind, Kyley has experience building off-platform communities and growing different types of accounts.
Before The Post, she was an audience engagement producer for VERIFY, a national fact-checking brand that works across 64 news stations to combat misinformation. During her time at VERIFY, Kyley helped launch its TikTok account and managed all its social platforms. She also co-wrote a newsletter, designed visual graphics and shaped audience-first coverage on emerging platforms.
Before VERIFY, she was a digital producer at WUSA9, reporting on everything from presidential elections and gun violence in the District to the Nationals' 2019 World Series run. Her passion for people and their stories has led her to covering topics from the Washington Capitals to the Supreme Court, managing live blogs and push alerts, writing social posts, and covering breaking news.
Born and raised in Phoenix, Kyley is a proud graduate of the Walter Cronkite School of Journalism at Arizona State University.
When she's not obsessing over emerging platforms and social strategies, you can find her curating the perfect Taylor Swift playlist on Spotify, exploring new cities and looking for the best sushi in D.C.