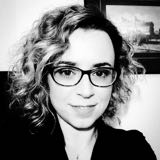 Katerina is a freelance journalist and communication specialist based in Athens. She currently is the press/communication officer of the Greek Alternate Minister of Foreign Affairs. She is a member of the radiobubble.gr open community where she hosted a weekly radio show and participated with the #rbnews team. She is also a founding member of the rbdata team, producing Greek and international data journalism projects.
As a data journalist, Katerina contributed to Generation E and The Migrants Files intra-european projects. As a freelance journalist she collaborated with various Greek online media and newspapers, among them toperiodiko.gr, toportal.gr, PRIN newspaper, Avgi newspaper etc. focusing on international news and human rights. As a fixer/local producer she collaborated with numerous foreign correspondents in Greece, among them BBC, deVolkskrant, MTV3 etc.
Previous to her current position she was the communication officer of the Greek Minister of Culture, and a member of the curatorial team and the press officer of the 4th Athens Biennale 2013.