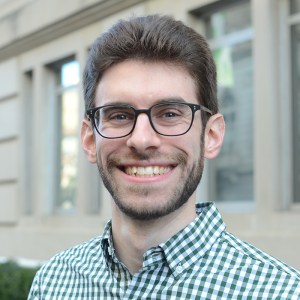 Greg Linch is a back-end developer at Industry Dive, a business journalism company based in Washington, D.C. He previously worked on data tools and projects across McClatchy's 30 newsrooms and Washington bureau. He has also built tools and overseen local data journalism initiatives at The Washington Post, where he worked as a developer and then project manager. Greg started at the Post as a web producer desks including health/science, politics, world/national security and mobile innovations. On the side, he teaches web development classes at Howard and Georgetown universities. He previously taught at Northwestern's Medill D.C. newsroom as part of the National Security Reporting Project. Outside of journalism, he enjoys reading about art, science and the human side of technology. Greg is a member of IRE/NICAR and is served three terms on the Online News Association board of directors, from 2013-2018.
---
As a candidate for the 2019-20 Board of Directors election, Greg submitted the following information. Learn more about the election process.
ONA Involvement
I've been an ONA member since 2008 and a board member for almost 6 years. As a member, I volunteered with ONA local in D.C. and ran the annual conference video stream team for 3 years. As a board member, I have contributed to the conferences — from planning and reviewing sessions to moderating lightning talks. I have also overseen two karaoke fundraisers, which were the first such events ONA has ever hosted. I chaired the website committee for several years. I am an active member of the legal committee and now serve its chair.
Vision for ONA
My vision for ONA comes from more than 10 years as a member and almost 6 years as a board member. We've made immense progress, but we always have room to continue improving.
Diversity and inclusion: ONA must continue to act as a constant driver of progress — both within the organization itself and the industry. With our progress as a professional association, we can use how we've made ONA more inclusive to help newsrooms do the same.
Leadership: First with Women's Leadership Academy and now with the Women's Leadership Accelerator, these programs immediately had huge impacts. Building upon these efforts will help further improve the journalism community and benefit ONA members.
Legal: Efforts to hamper or restrict access to journalists must be countered in the courts of law and public opinion. We must continue, as well as explore how to expand, our efforts at making sure journalists can safely and effectively inform the public without interference or restrictions.
Scholarships: Whether grant-funded or run by third-parties, conference scholarships have been a major driver of diversifying the conference and broadening ONA's member base.
Voices beyond news: As such a big-tent group, our members represent every role in newsrooms and beyond. This variety of professional perspectives is one of our greatest strengths. To continue serving this broad cross-section of news, design, data, technology and product, we should always be looking for experts outside of journalism whose insights and lessons can help us better do our jobs.
In terms of skills, I'm someone whose career has woven between news and technology since college, when I first attended ONA. Working in roles such as reporter, editor, producer, project manager and now web developer has given me a broad perspective of the challenges and opportunities our industry faces as a whole and ONA faces as an organization.
I also bring experience from frequenting other journalism conferences such as NICAR and SRCCON, which offer many valuable lessons and insights. Staying connected to those communities also helps serve as bridge between communities. We should always be learning from and sharing with others who share our goals.
As a part-time educator at both the graduate and undergraduate levels, teaching helps inform my work on the board. For example, keeping in mind in the needs of students and educators alike along with applying a teaching-learning mindset as a board member.
With all of the experience and vision outlined here, I would be honored and thrilled to serve another term as board member.