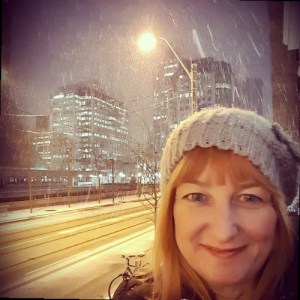 Caroline A. Godin heads One Girl Revolution, a boutique content-focused media consultancy working with a variety of content providers, producers, distributors and media outlets. Her recent production credits include Psycho Kitty (Logo USA and OUTtv Canada), Chefs Run Wild (Travel & Escape Canada and National Geographic International), and Greg Frewin: Magic Man (CBC Canada).
Past and current consultancy clients include Pogue Productions (Australia), Target Entertainment Group (UK), Microtainment/Docutainment Media (Canada), Network Ireland Television (Ireland), Primevista Television (Canada), Angel Entertainment (Canada), Corus Broadcasting (Canada), Fadoo Productions (Canada), OutTV (Canada), Convergent Entertainment (Canada), DLT Raydar Rights (USA/UK), T-Group Productions (USA), Oprah Winfrey Network (USA) and Odyssey Networks (USA). She has worked with the post-graduate program in TV Writing and Producing at Humber College and been a course instructor and designer for The Toronto Film School in Toronto, Canada, helping to mentor the next generation of storytellers and content creators.
She has held staff positions as head of sales and marketing for Ellis Entertainment (exporting Canadian-produced content and providing import distribution into Canada for companies such as Off the Fence, Fremantle Media, and Beyond Distribution), programming manager for Viewer's Choice pay per view, marketing executive at CMT Canada, and head of publicity and promotions for Columbia TriStar/Sony Pictures Television International in Canada.
Godin is a member of the Academy of Canadian Cinema and Television. She has served as a juror for the Alberta Film and Television Awards and the Canadian Screen Awards and has been as an expert panelist at industry events such as Real Screen. She holds a Master of Arts in Creative Media Practice from the Media School at Bournemouth University and is a Digital Content Writer/Editor, and a published author of magazine articles, blogs, scripts, games, and romance novels.