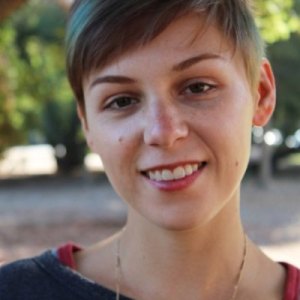 As an AP-Google Scholar:
School: Stanford University
Year in School: Graduate Student
Age: 24
For the past two years, Allison McCartney has been an editor for the PBS NewsHour's online education team, where she writes, edits and produces work aimed at improving digital and media literacy.
She has also created graphics for the NewsHour's broadcast and online presence, and designed badges for the PBS NewsHour's Student Reporting Labs program.
Allison grew up in Plano, Texas, where she played soccer and was on her high school debate team. She went on to get her undergraduate degree in Jewish, Islamic and Near Eastern studies from Washington University in St. Louis in 2012, where she also studied drawing and printmaking in the College of Art. During her first semester of college, Allison interned for CBS News during the Vice Presidential Debate between Joe Biden and Sarah Palin, piquing her interest in journalism. Her studio art practice focused on dissecting, rearranging and rebuilding mechanical diagrams and technical drawings.
In her spare time, Allison can usually be found at bike events, trying out new restaurants around D.C., or at trivia night with her NewsHour coworkers.
Allison will soon begin a one-year graduate journalism program at Stanford University, where she will focus on data journalism. She has previously worked for The Nine Network in St. Louis, where she gained her love for public media, Visual.ly and BoomGen Studios.
The Proposal
Defense contractors are pulling in more taxpayer money than ever before, but there's still no user-friendly way to explore and compare contracts and contractors over time. While a wealth of public information exists for the roughly one million transactions the Department of Defense makes with contractors annually, including from press releases and USAspending.gov, the exploratory tools that accompany this information are often cumbersome and difficult for the average viewer or journalist to use effectively.

My project will be to create a graphic interface for users to explore trends in defense contractor data, then provide information on the resources users may need to delve deeper. Inspired by tools like Census Reporter or the Clear Congress project, this project will use graphics and visualizations to allow users to find stories in public data they might otherwise be unable to see.
By focusing on key parts of the data from a specific area of the government, the Department of Defense, I hope to create a digestible and understandable set of data that will allow for greater visual creativity, flexibility and intelligibility than the resources now available to the public.
Q&A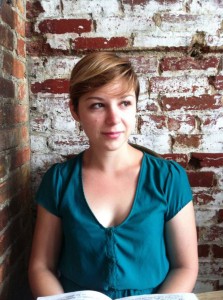 Hometown:  Plano, Texas
Current location:  Washington, D.C.
Current gig:  Editor for the PBS NewsHour's education team
Six-word memoir: "I want to go to there."
Favorite fictional character: Liz Lemon from "30 Rock"
Why did you choose to get involved with online media?
When I started working, I was involved with all sorts of television gigs, from news to reality TV. However, my interest in television eventually morphed into an interest in information programming and news, which made my transition to working online at PBS seem very natural. I had worked with graphics and animation software in college, and when I realized I could put some of those skills to better use in an online space than on our broadcast, I was hooked.
What happens during your average day?
My job can vary quite a bit on a day-to-day basis, though all my days start with a review of the previous day's most important news stories, then working with my colleagues to turn them into education tools.
Beyond that, working in public media is really a team effort, so I may get pulled into projects as varied as helping produce lesson plans on current events for the classroom, writing articles and creating graphics for the website, or even illustrating a new badge system.
You conceived your project idea because of the hurdles you faced at your job. What are the hurdles journalists face today?
Shrinking budgets are really at the root of most problems journalists face in the industry today. Most organizations don't have the financial ability to hire on more people, or enough people with specialized technology skills. Lots of good digital journalists find they can get better paying jobs in other industries and leave.
This pressures journalists to try to do everything: write scripts, shoot video, edit video, write an article, create separate online components, publish and produce, all the while blogging, tweeting or creating some sort of online presence and personality. I think this "do everything yourself" expectation can hurt quality of work, especially in the new world of journalism startups, where the editorial workflow hasn't yet been battle-tested, and an ethos of "post early, post often" forces projects out the door before they're ready.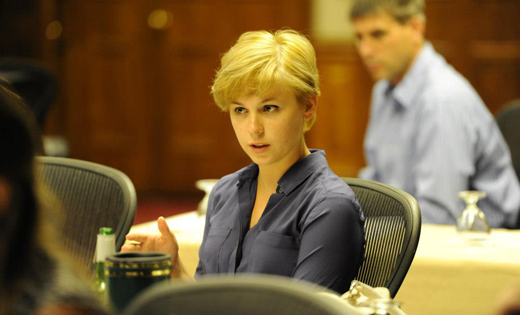 You plan to investigate the data that the government releases on defense contractors. What do you hope to identify and how will this help journalists?
With a better way to see information on contractors, I hope to better track peculiarities in the lives of individual contracts. I'm interested particularly in smaller and upcoming contractors and their relationship with the giants of the industry.
I think journalists could benefit from this type of resource as a jumping-off point for inquiry. While other resources can provide an in-depth look at individual contracts and data points, it remains difficult to look at big-picture trends and disruptions in those trends.
Should all journalists learn to code?
I think all journalists should at least learn enough code to know how to publish their work online. Even if they are not in a publishing role, I think it's good for all journalists to understand the possibilities and challenges that come with producing online media. It improves communication between reporters, editors, producers and developers, and creates a smoother workflow for everyone.
What was the defining moment that led you to study data journalism for graduate school?
I decided to go to grad school when I began thinking up stories with data, but didn't yet have the skills to execute them at a publishable standard. At that point, I had a clear idea of what I needed to learn in terms of technology and ethics, and decided that grad school was the quickest and most thorough way to meet these goals.
What will the newsroom look like 50 years from now?
I feel that newsrooms will probably continue to become more reliant on technologists in the future, widening the gulf between reporters and digital producers. Digital security will play a more central role in newsroom practice, and newsrooms themselves may become less geographically centralized to make up for the deficit left by the disappearance of local news outlets.