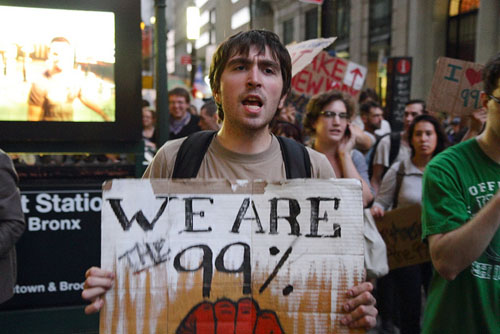 (Photo by _PaulS_, via flickr)
Since Sept. 17, the Occupy Movements have been a constant presence in both select cities and the news cycle as media outlets around the world try to make sense of a protest-turned-social movement that has held on for close to 80 days.
In the words of Washington Post scribe Elizabeth Flock:
There is the Occupy shown by the news media, defined by police clashes and a lack of hygiene — images that tell non-Occupiers that the movement is leaderless, chaotic and on its way out. But as the marchers passed through towns large and small, and ordinary Americans came out of their homes and businesses to give food, money and words of support, it became clear that this movement isn't going away.
While Occupy may not be over, it's never too early to start checking out the lessons media can take from the movement.

1. Remember the fight for press freedom
A press pass is a powerful thing. It confers access and some level of privilege. Watching my Twitter feeds during some of the OWS actions that ended in police action toward journalists, many were aghast that the police would 1. arrest journos and 2. require press pre-registration (if it is even available) before protests.
Learn more