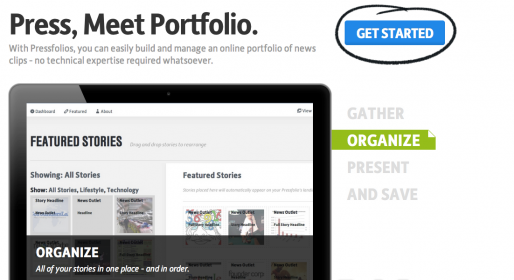 About a year ago, I was about to grab sushi at Union Station when I got a strange call. Apparently, someone had given my number to a guy named Marc Sampson and he wanted some advice about what journalists were looking for in a personal site for some vague sounding startup. I talked to him for about 20 minutes, and promptly forgot about the conversation until I received an email earlier this week about the beta launch of the project.
Pressfolios is a startlingly simple concept: It's an online portfolio for press clips. The interface is clear, easy and quick. Intuitively designed, it does wonders for time-strapped journalists — you essentially click what you want to change, be it a picture, a tag or key details. The standout feature is the easy updating for new stories and columns. Instead of having to code them, you simply enter the link and it appears as an elegant and inviting little box.
Earlier in the week, I spent about three hours on my personal website updating a vast backlog of stories — I ultimately scanned, sorted, and uploaded seven stories and made quite a few needed updates. I also spent a lot of time visually formatting the posts, even though I am still not quite happy with the results. On Pressfolios, I spent three hours again, but I uploaded 30 stories in the same time frame. The application also makes the uploading process a lot easier for bloggers. When I wrote for Jezebel.com, we were required to crank out four to eight posts a day. I did that for eight months. While I was proud of my work at the site, I generally had to settle for only featuring one or two of my pieces; who has the time to go back and code all those links? Pressfolios' easy uploading allowed me to give my old work new life.
Learn more