ONA welcomes BBC's Steve Herrmann, new International Board appointee
ONA is delighted to announce the appointment of Steve Herrmann, Editor of BBC News Online, who joined the Board in January as our international member. Steve replaces Mario Tedeschini-Lalli, whose two-year term as our first overseas director ended in December, and who worked tirelessly to build up our partnerships and community as Chair of our International Committee.
Since January 2006, Steve has had overall responsibility for the digital output of BBC News on desktop website, tablet and mobile, in the UK and internationally. He leads a team of online journalists and also oversees content from a wide range of others across BBC News who contribute to the BBC's online, on demand and multimedia output. He is a board member of the Global Editors Network and serves on the media advisory panel of the International Broadcasting Trust. Steve also ran for election for the ONA Board in 2013. Learn more about Steve.
---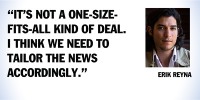 Apply for the AP-Google Scholarship
Now in its final year, the AP-Google Journalism and Technology Scholarship will award two $7,500 scholarships to undergraduate or graduate students pursuing innovative, creative projects in digital journalism.
Our two-year partnership with the Associated Press and Google is at an end, but we're fortunate to have excess funds to support two more winners for the 2014-15 academic year. The deadline to apply is Feb. 21. Learn more about the scholarship, past winners and their projects.
We're thankful to both AP and Google for supporting our inaugural program. We're looking for additional scholarship partners for the 2015-16 academic year. If you or your organization are interested, please contact Irving Washington at irving@journalists.org.
Learn more