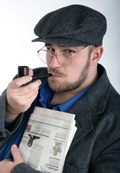 Mobile Products Manager
Broadcasting Board of Governors
Will Sullivan is the Mobile Products Manager for the Broadcasting Board of Governors, an independent federal agency that operates digital and broadcast properties including The Voice of America, Middle East Broadcasting Networks, Radio Free Europe and Radio Free Asia (Will's service on the ONA board of directors is solely in his personal capacity and is not funded, sponsored, or endorsed by the BBG or the U.S. Federal government). He was previously the Director of Mobile News for Lee Enterprises and a 2010-2011 Donald W. Reynolds Journalism Fellow at the University of Missouri, where he studied mobile, tablet and emerging technologies. Before that, he was the Interactive Director of The St. Louis Post-Dispatch where he lead the organization's mobile, social and multimedia initiatives. Sullivan was recently selected by Editor and Publisher as one of 2012's "25 under 35" innovative young leaders in modern journalism. Sullivan's work has won more than a dozen professional awards from organizations including the Online News Association, Society for News Design and National Press Photographer Association; projects he's worked on have twice been declared finalists for the Pulitzer Prize and twice been named to Editor and Publisher's annual list of "10 That Do It Right." His personal website, Journerdism.com, was also recognized by Harvard University's Nieman Journalism Lab as one of the 10 best "future-of-journalism" blogs. He's the secretary of the Online News Association's board of directors as well as a board member for the Society for News Design foundation and co-creator and co-director of the NPPA's Multimedia Immersion. Sullivan also frequently offers strategic and technical consulting in emerging technologies, as well as hands-on training at organizations, universities, workshops and conferences around the world including the Knight Digital Media Center, South by Southwest Interactive and The Poynter Institute. He can be contacted at will [at] journerdism.com or on Twitter @Journerdism.