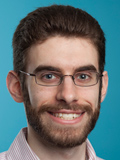 Local Data Projects Editor, The Washington Post
Medium: Digital/newspaper
Membership: Professional
Bio
As a youngster, Greg Linch wanted to be a scientist and inventor. Then, as a teenager, he turned his eye toward writing and later reporting. Somewhere along the way those interests blended and he now works on data and technology projects for The Washington Post's local desk. Using his knowledge of journalism and code, Linch collaborates with reporters, editors, designers and developers on a wide array of topics. Crime, transportation, education, government — you name it. His tools include everything from FOIAs and phones to Python and project management software.
Before joining the Post, Linch worked on two start-ups: Publish2, which offers software platforms for newsrooms, and CoPress, which worked with college media organizations to thrive digitally. He has served as an adjunct at Medill's DC bureau and Georgetown University. Some of his other interests include science, art and karaoke.
Quick history of ONA involvement:
Member/conference attendee since 2008
ONA DC participant and volunteer since 2009
Conference video stream team leader 2009-2012
Conference speaker in 2012 and 2013
Board member since 2012
Helped plan dCamp in DC in 2013
Board's point person for journalist.org redesign
Conference karaoke instigator since 2011
---
The unedited information below was submitted by the candidate.
ONA and Industry Involvement
I've been an ONA member since 2008, led the conference video stream team from 2009 to 2012, have been very active with ONA DC and am currently serving my first term as a board member. My first year on the board included extensive help with conference planning — particularly the "make" sessions. I've also been involved with the student committee, which in 2013 organized an a blog series for interns to share advice with their peers (see "additional links"). This year I've been the board's point person for the journalist.org redesign, working with Jeremiah and volunteers to overhaul ONA's site.
Vision for ONA
ONA members include every type of journalists in every type of news outlet. As an organization we deal with subjects that affect a wide spectrum of the industry — such as leadership, ethics and diversity — and more specific topics, like how to protect sources, use a new tool or adopt new reporting methods.
In order to best serve our members and take advantage of ONA as platform (see http://bit.ly/GLonaboard12), we need to include more voices.
We need more members and participants who are in business, advertising, sales. They too work in the news business and are a notably absent group in our conversations about the present and future.
We also need to expand our community to include others outside of news — professionals and academics whose fields share similar fundamentals, themes and practices or who have methods we could learn from and apply to journalism. We should recruit them as associate members.
Artists and architects. Biologists and book-creators. Filmmakers and forensic accountants. Game animators and geographers. Industrial designers and improv actors. Linguists and librarians. Mathematicians and musicians. Poets and philosophers. Sociologists and screenwriters.
We have so much to learn from our peers and colleagues. But, beyond learning from each other, we have even more to learn from those outside our field — the subject-matter experts and specialists.
What are their processes? How do they solve problems? How have they been disrupted? How have they adjusted their business models? What have they made? How have they spearheaded change?
It's like you're writing a story. You have the seed of an idea, so you ask a reporter in the next pod if it sounds worth checking. Then you start contacting sources, asking them for other experts and broadening the scope of what you know
That's the same kind of expansion we need.
Invite them to local meetups. Ask them to speak at annual conferences. Include them in dCamps and leaderships breakfasts. Appeal to them for guest posts on journalists.org.
Let's update our rolodex.
Nomination
Not required for incumbents.
Additional Links