The ONA Advisory Board is comprised of media, technology and nonprofit leaders who help us manage growth as we move into the next decade. The group shares its collective wisdom with the ONA Board of Directors, Advisory Board Chair Amy Webb and Executive Director Jane McDonnell in meeting member needs, generating self-sustaining revenue and formulating "future-think" policy.
They are: Richard Gingras, Head, Google News; Mark Walsh, CEO of GeniusRocket; Liz Lufkin, Chief Content Officer, Trapit, and Vivian Vahlberg, president of Vahlberg & Associates, and project director for The Chicago Community Trust's Community News Matters program, a project of the Knight Community Information Challenge.
Richard Gingras currently heads up News Products for Google. He previously ran Salon Media Group, which operated the popular and acclaimed Salon.com, the blogging community OpenSalon.com, and the pioneering virtual community The Well. He has long guided the development of new products, new technologies, and new companies, often as an active board member and strategic advisor with early stage ventures. He also served, in 2007 and 2008, as a strategic advisor to the senior team at Google. Gingras was co-founder, CEO and chairman of Goodmail Systems, a venture that provides certified email services to thousands of online retailers and financial service companies. Other ventures include Digital Railroad, a distribution marketplace for photojournalists and commercial photographers, Audio Mill (merged into Real Networks), technology incubator ChanceTechAV, web applications platform provider Laszlo Systems, custom book publisher MyPublisher, broadband applications platform developer Sugar Media (merged into 2Wire), and Salon.com, among others. Gingras serves on the board of the World ComputerExchange, which diverts used computers from landfills in the United States and places them in educational facilities in developing countries. He is a 1973 graduate of Boston College.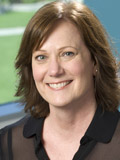 Liz Lufkin
Trapit
Liz Lufkin is a longtime journalist and digital media executive who specializes in using technology to create engaging content. She is the Chief Content Officer at Trapit, a personalized discovery engine that uses technology from the same DARPA-backed project at SRI that spun off Siri. Prior to Trapit, she was Vice President Front Page Programming at Yahoo and responsible for content on Yahoo front page, which Fast Companycalled "addictive" and "irresistible." Liz's group contributed to the successful development of CORE, Yahoo's content personalization and optimization system. She has also consulted to a range of companies, from start-ups to portals. Prior to Yahoo, she was a deputy managing editor at USATODAY.com and USA Today. She held the same role at the San Francisco Chronicle, supervising 10 daily and weekly sections and helping to launch sfgate.com. Liz was co-chair of the ONA's sold-out 2009 San Francisco conference, served on the ONA Board of directors 2010-2011 and was also on the Advisory Board of the University of California at Berkeley's Graduate School of Journalism.
Vivian Vahlberg
Vahlberg & Associates
Vivian Vahlberg directs Vahlberg & Associates, a Chicago-based national executive consulting firm with expertise in management of foundations, nonprofit organizations and news media. Previously, Vahlberg was Managing Director and Director of Digital Media of the Media Management Center at Northwestern University, where she developed research, publications and educational programs for news media executives. She was Director of Journalism Programs for the McCormick Tribune Foundation, where she managed investment of more than $70 million in journalism grants and programs in the U.S. and Latin America. She previously served as the Executive Director of the Society of Professional Journalists, Vice President of the National Press Building Corporation, Assistant Washington Bureau Chief for the Daily Oklahoman, Oklahoma City Times and Colorado Springs Sun, and Adjunct Professor of Journalism at the Medill School of Journalism. Vahlberg was the first woman president of the world-renowned National Press Club in Washington, D.C., and is an inductee of the Oklahoma Journalism Hall of Fame. She has edited and/or written numerous studies about the news media. Most recently, she co-authored three major research studies of the online habits and preferences of young people.
As CEO and chairman of GeniusRocket, a leading provider of user-generated advertising media, Mark Walsh has been ahead of the curve in creating marketing content for businesses ranging from Fortune 500 corporations to local retailers. GeniusRocket has grown a community of 14,000 creative artists across 110 countries generating video, animation, graphic design, copy, and more. He also served as Chairman and CEO of VerticalNet from August 1997 to July 2000, and was a Senior Vice President and corporate officer at America Online, Inc. He founded and managed AOL Enterprise, the business-to-business division of AOL. Walsh also served as the President of GEnie, General Electric's online service, and as the director of New Business Development at Home Box Office in New York. He first got into the "online services" business in 1986, serving as General Manager or CEO of several internet and technology start ups. Since 2001, he has been active in politics, serving as the first Chief Technology Advisor to the Democratic National Committee during 2001 and 2002, and as the Head of Internet Strategy for John Kerry for President. He was the founding CEO of Air America Radio in 2003-4, where he remained an investor and director until 2009. Since 2000, Walsh has managed a small angel-investment fund, Ruxton Ventures, where he has invested in a number of small to medium technology/startup companies. He graduated from Union College and received his MBA from the Harvard Business School.